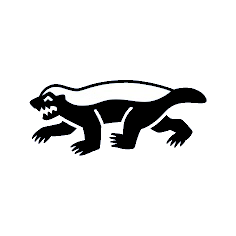 If one were to ask which animal has the most "moraal" in the animal kingdom then surely the honeybadger would come up. This animal stands up against cobras and lions, and keeps going in the face of hardships.
After the demise of Meesterknecht, I started an agency "and moraal", which helped premium cycling apparel brands partner with local bikeshops in the Benelux. I felt the agency needed a mascott, and in a way I needed a personal mascot. Like a football team has its own mascot which is thought to bring luck. Running the bikeshop had been hard, but I did not feel like sitting down and doing nothing. I enjoyed the spirit of starting up a business and connecting businesses. Given my new business was a team effort, partnering clients with bikeshop, a team logo seemed appropriate. The agency has stopped, but I've kept the logo as a mascot for my efforts. Don't give up. They can steal everything but your morale is yours.
The logo was designed by Markku Mujunen.